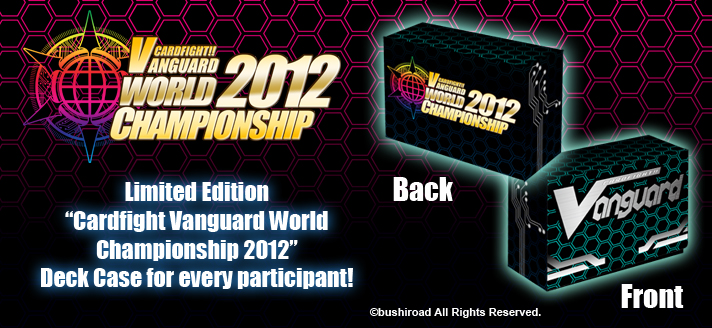 Calling all retailers!
There hasn't been a better time to stock up on the Vanguard Trading Card Game than now!
The 2012 Vanguard World Championships are happening this month, with the Australian championship being held in MELBOURNE on the 22nd September 2012. Every participant receives a limited edition 2012 World Championship deck box!
Location: Melbourne City Conference Centre – 333 Swanston Street, Melbourne, VIC 3000, Australia
Registration time: 10.00am – 10.30am
Entry Fee: None
Eligibility: Participants must reside in Asia-Oceania
Deck Regulations: All English version cards can be used. Cards of other languages may not be used. Participants are required to use opaque card sleeves so that the back of cards cannot be easily distinguished. For the Australian qualifier, cards from Booster Pack "Rampage of the Beast King" cannot be used, because the set is only released in Singapore at that time.
Tournament Structure:
・Double elimination followed by top 8 single elimination.
・The number of rounds for the double elimination will depend on the number of participants (fighters to lose 2 matches will be eliminated).
・The top 8 fighters after the final round of double elimination will advance to the top 8 single elimination.
・The standing of fighters with the same record will be decided by opponent's match win percentage. (i.e. fighters who played opponents with a better record will be ranked higher.)
・1 game per round.
・1 round is 20 minutes.
Participation prize: Knight of the Steel Blade card, Caradoc (PR/0013EN)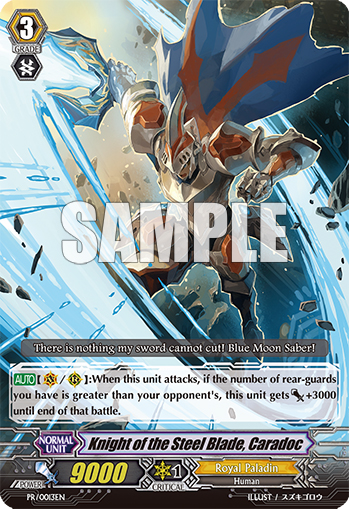 Top Prize:
The 1st place finisher will get an invitation to the Asian-Oceanian Championship.
Travel fees will be provided.
If a fighter already has an invitation to a Cardfight!! Vanguard Championship or World Grand Prix, the prize will be passed down to the next fighter in the standings.
Fighters with 1 or less losses will receive an additional Knight of the Steel Blade, Caradoc (PR/0013EN).
Minors will need confirmation from a parent or guardian to earn the invitation to travel.
The 2012 Vanguard World Championships will be held in Japan in December 2012 – more information coming soon.
For more information click here
PLUS! LEARN HOW TO PLAY THE VANGUARD TCG HERE ON THE OCEANIA WEBSITE!


---